Design Your Own Family Keepsake
Combine Lab Ruby with any gemstone to create your own unique family keepsake with the birthstones of your loved ones, or your favorite combination of colors.
Combine Lab Ruby with:
Select a gold color:


lab_ruby
white_gold
Lab Ruby

Frequently discovered in Egyptian tombs and wall paintings are necklaces. Many of them are chains consisting of various materials strung together with a large drop or figure in the center and smaller pendants strung at intervals beside it. Another variation on the necklace was the usekh collar, which covered the chest and shoulders and which was found on many mummies attached to the winding sheet. Such a collar is made of rows of cylinder-shaped beads with pendants gathered up at either end to the head of a lion, hawk, or lotus flower.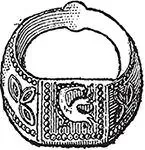 Bracelets, arm pieces, and rings are also very commonly found. Rings also served as a signet with the owner's emblem engraved on their surface. Some such rings are very cleverly designed so that ornamental scarabs and the like were exhibited until it was time to use the seal, at which point the scarab would revolve on wires, exhibiting the engraved side.