ANNIVERSARY BAND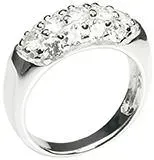 A ring where diamonds or gemstones are set 1/3 or 1/2 of the way around the perimeter of the band. The stones are usually set in a channel or a prong setting. The band itself can be uniform in width or it can be tapered. This type of ring is traditionally given on a wedding anniversary.
ANTIQUE RING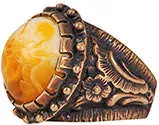 A ring that has been around for over 100 years.
BAND

A ring that is uniform in width, with no obvious "top"". It may be engraved with letters or designs or set with diamonds or gemstones."
BIRTHSTONE RING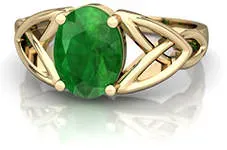 A ring featuring precious or semi-precious gemstones that are associated with the specific month of a person's birth. A perfect way to make a ring more meaningful and personalized for its wearer.
CLUSTER RING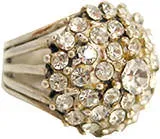 Multiple diamonds or gemstones of various sizes fashioned together in one setting, or a ring containing a central, main gemstone with numerous smaller stones accenting it.
COCKTAIL RING
Also known as a cluster ringï¾ and a dinnerï¾ ring, it is a large, dramatic ring that rises considerably off the finger. It originated in the 1930's, when it was worn to cocktail parties. It is usually set with many large, colored imitation gems and smaller faux diamonds, and is meant to look lavish and overdone.
ESTATE RING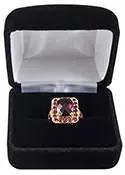 A ring that was previously owned, usually part of a deceased person's estate. It is not necessarily antique and may include fine or costume rings from any time period.
ETERNITY BAND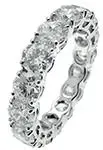 A band that is uniform in width and set with one or more continuous rows of identically cut gemstones or diamonds. The stones completely surround the band and are usually prong or channel set. It is usually given from a husband to his wife on their wedding anniversary.
FANCY WEDDING BAND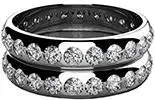 A wedding band with more ornamental style than a simple, traditional precious metal band. Examples include bands with gemstones or engravings.
FLEXIBLE RING
A floppy, bendable ring made out of links of metal.
GIMMEL RING
A ring popular in the 16th and 17th century in Western Europe that was used as an engagement/wedding ring. It involved a series of interconnecting bands held together with a tiny pin. The bands would swivel and align to form a single ring. Both the man and his fianc� would wear the two separate parts of the ring, and after the wedding, the woman would wear both parts of the ring as one. Sometimes, Gimmel rings were exchanged between two men, symbolizing friendship. Gimmel rings were rarely set with gemstones, and today those remain the most valuable.
KEY RING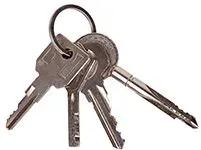 A metal ring designed to hold keys together.
SIGNET RING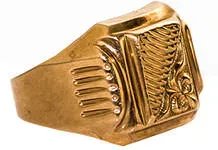 May also be called a "seal"" ring. A ring engraved with letters or one's initials. It may also feature a specific design. A college ring is an example of a signet ring."
SPINNER RING
A ring with two bands, one comprises the base and the other acts as a spinning insert. It may be decorated with an intricate pattern or feature engravings.
STACK RING(S)
Stack rings or "stackers"" feature two or more bands that are meant to be worn together on the same finger. They can be identical or set with different stones, and their size may vary as well, as long as they look appealing stacked together."
VINTAGE RING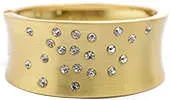 A pre-owned ring that has been crafted between 1920-1980, and is now making a comeback in style. It differs from an Antique ring, which would be a ring crafted over a 100 years ago.
WEDDING BAND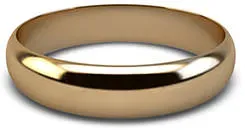 A ring that is uniform in width, with no discernible "top"", worn by married men and women on their left ring finger to signify that they are married. The ring may be a single gold band or can be engraved or set with gemstones. (See Fancy Wedding Band)"
3-STONE RING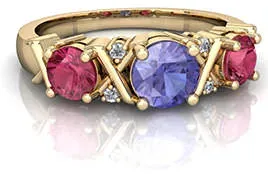 A ring featuring three larger stones which may symbolize past, present, and future. The three stones may be of different gemstones, colors, shapes, and sizes, but they do need to complement each other and usually offer some degree of symmetry. It is a popular option for engagement and/or anniversary ring. A 3-stone ring can also be a great way to represent three children in a family, or can carry a religious connotation of the Father, the Son, and the Holy Ghost. The possibilities for a 3-stone ring are endless, as well as countless variations in its design.